Home
The Settle-Carlisle Line is fully open again.
For over a year we'd been suffering the aftermath of the catastrophic floods and landslides of the winter of 2015-16, but thanks to heroic efforts by Network Rail and their contractors Story Rail, the line re-opened fully on 31st March.
Now that we have a full train service again, would you like a Dales Railcard to save you 1/3 on the cost of fares? Probably the best rail fare deal anywhere! So if you live in an eligible postcode area you can purchase online through the Settle-Carlisle Railway Development Co website. Not eligible? No problem if you're a FoSCL member, order a FoSCL Dales Railcard. And if you're not already a member, do join us online - click here for details.
You can learn more about the massive slow-moving landslip at Eden Brows, by viewing Network Rail's excellent video covering the entire project to date, click here. There's still work to be done on the embankment below the impressive steel and concrete structure than now supports the tracks, but the line is now safe and sound.
Now on to more good news.
The Settle Carlisle Railway Development Company are running a diesel hauled excursion from Carlisle to York on Saturday, 25 November 2017. This is quite unique as most rail excursions travel from elsewhere in the country to Carlisle. As a destination, York has much to offer with the St Nicholas Market and the choir weekend. In addition there is the National Rail Museum, Jorvik Center and other museums as well as great shopping and places to eat. Seats in first and standard class carriages are available.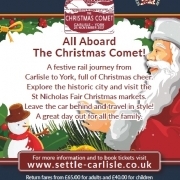 Santa and his elves will be travelling on the train distributing presents to children. For more information and to buy tickets, click here
For freight, the Arcow Quarry near Horton-in-Ribblesdale has been connected to the Settle-Carlisle Line by a new siding, the first new connection to the line for many years. See http://www.foscl.org.uk/scrca/structure-summary/240950 for photo and full description.
Webcams: see in real time what's happening at Ribblehead, Horton-in-Ribblesdale and Kirkby Stephen. A great view of the famous viaduct and the railway track leading to it, and of three of the Settle-Carlisle stations. See for yourself here.
And finally, want to know more about the Friends of the Settle-Carlisle Line and what we do? You can start with About Us...
Stay at a Station on the Settle-Carlisle Line, see the attachment below...
Last updated by Richard Morris on 06/10/2017