Home

CELEBRATING THE SAVING OF THE SETTLE CARLISLE LINE
25TH ANNIVERSARY
On Friday 11th April, thanks to the generosity of DRS (Direct Rail Services) there was a special train from Leeds to Carlisle and return along the Settle-Carlisle Line. Ten carriages were hauled by two Class 37 diesel engines, with another Class 37 at the rear. The excursion was superbly organised by the Settle-Carlisle Railway Development Company.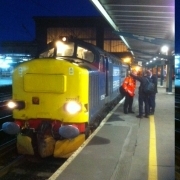 Here we are at Carlisle Citadel station at 5.30 am prior to travelling down the East Coast Main Line to pick up VIPs and paying guests at Leeds at 9.30. Best known of the VIPs was Michael Portillo, seen here being interviewed on the train by the BBC.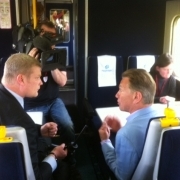 Some good videos on YouTube of our stately progress, try this one.
A total of 600 people travelled up to Carlisle, where the VIPs were treated to a buffet lunch in the Hallmark Hotel and listened to brief speeches by Michael Portillo and others who were involved in the saving of the line from closure.
It was a unique occasion, a reunion for those who saved the line and at the same time a marvellous opportunity for FoSCL to speak to those who will be involved in specifying the next Northern franchise.
Improved rail services: we're now actively campaigning for a better service between Leeds and Carlisle. And there's still time to complete our short online survey on a new direct Manchester-Carlisle rail service. Note: you can only complete the survey once from any given computer. Please total the responses from your household and enter them all at once.
For background information on the campaign, click here.
Join us! You'll be helping to support and fund our campaign for this and an improved service between Leeds and Carlisle. Just click here.
FoSCL Railcard: if you're already a member, you can get one. (It used to be called a Gold Card). It's the same as a Dales Railcard, for those who live outside the eligible postcode areas.
To buy one, first log in (tab at top right of this page). Just joined? There is a time lag before your membership is registered, so you can't log in to buy one just yet. If you want to purchase a Railcard immediately, email using Contact Us and we'll register you straight away.
Please note: we have to order each Railcard individually from Northern Rail so it can take a fortnight or so before you receive it. Existing members please order well in advance! Just click here.
What we do: with some 3,500 members, we are probably the largest rail support/user group in the UK. We provide support to the Settle-Carlisle Railway by
Regularly providing On Train Guides to enhance travellers' experience of the Settle-Carlisle Line.
Regularly leading Guided Walks from stations along the line and at the historic Ribblehead site.
Helping to produce and distribute promotional leaflets to boost passenger numbers.
Looking after station gardens, providing heritage style benches and re-painting woodwork.
We act as a user group through
Liaison with Northern Rail (the train operating company) on passenger services and Network Rail on railway infrastructure. Through our on train guides and other contacts we are uniquely placed to understand passengers' concerns and relay them to the relevant authorities.
We run shops at Settle and Appleby stations selling a wide variety of S&C related items and local produce.
If you would like to know more about FoSCL, click on the About Us tab at the top of the page.
We hope that you enjoy looking round this web site, that you will come for a tour of England's most scenic railway and that you will consider joining the Friends. We look forward to seeing you.
Last updated by Richard Morris on 13/04/2014