Bridge Strike
An Argos van hit the bridge at Kirkby Stephen West station on 26th August. Below is an eye witness account from David Singleton, FoSCL's Guided Walks Coordinator.
"Yesterday (Thursday) 15.20 at Kirkby Stephen station. We'd just arrived back from 'reccying' our next walk and were waiting for the 16.29 to Carlisle. We heard the bang, I alerted the signalman and the line was closed for about an hour until Network Rail had checked the bridge.
The line was declared safe and re-opened at 16.30 As it turned out the northbound train was held at Garsdale and arrived at KS just 15 minutes late. The southbound (due 15.53) was held at Appleby and arrived at KS around 16.45
The signalman was very helpful, ringing us on the platform phone to let us know what was going on.
The lorry driver reckoned he'd seen the bridge height limit sign (14' 6") but the information in his cab stated that the trailer height was 14' 2" so someone's measurements need checking!! Luckily no-one hurt."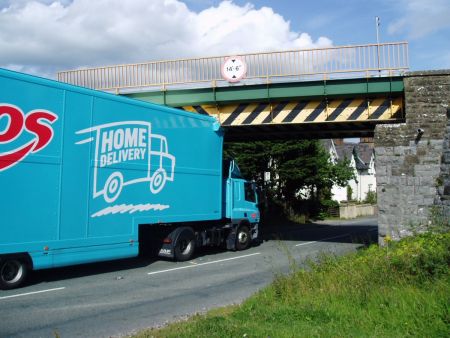 Last updated by Richard Morris on 10/01/2014