The following article was written by Brian Sutcliffe M.B.E. and first published in the August 2011 issue of the FoSCL Journal.
I shall begin my recollections of the early years with an introduction of how I became involved with such a remote line.
In the mid 1960s I was actively involved with a preserved railway where I became acquainted with David Burton, who would become the founding Chairman of the Friends. He introduced me to the line before the local Skipton - Carlisle service was withdrawn in 1970. I well remember my first ride northbound on a DMU, cresting Ais Gill summit and looking down the grade toward Kirkby Stephen to see a plume of white smoke and steam in the far distance. As the DMU gathered speed and the steam train came ever closer, it became clear it was a 9F on a freight train from Long Meg that was blasting its way up Mallerstang towards the summit. That everlasting and evocative memory of steam against a background of stunning scenery is what helped make the S&C so special.
In the period before I became involved I was to travel over the line on a Deltic excursion to Edinburgh which traversed the Waverley route on the day before its closure. This was 1969 and severed the Midland route from St.Pancras to Edinburgh. Worse was to follow in 1977 when the through trains to Glasgow were withdrawn, and replaced with a Nottingham – Glasgow service, that too would be diverted away from the S&C 5 years later. Clearly a determined run-down of the line was taking place and the only news to beat the gathering gloom was a charter train in 1974 which called at the previously closed stations and became the forerunner for what became Dales Rail.
My introduction to the Friends was an invitation from David Burton to attend a committee meeting; I think this may have been 12-18 months after the formation of the Friends. I well remember the late Graham Nuttall, a quietly spoken person who at the time was secretary and is perhaps best remembered for the statue of his dog Ruswarp at Garsdale.
From that chance attendance I became a committee member and within 18 months found myself the Chairman with David as Vice-Chairman. The next five years were to be a roller coaster ride which myself and the rest of the committee are unlikely to forget. By now closure had become a reality and we found ourselves in a situation none of us had experienced. The committee comprised people from all walks of life, but with a single goal, to ensure the line did not close. At this time Internet access and computers for the masses was a decade away. Communication was at the heart of our efforts and this was by telephone, a few committee members had access to Fax machines, otherwise it was by letter or word of mouth. A manual typewriter was about as far as technology touched the Friends. The membership renewals were done on a manual basis throughout the closure campaign, although by the mid '80s an embryonic system using an external computer company started producing labels. Although this was better than when I joined, the Friends still had some way to go before they would have fully computerised records and label production in-house. When I joined we had around 1000 members and when the line was saved from closure, that figure had risen to nearly 4500, with a fixed membership renewal date. Imagine processing so many renewals!
In those days the Friends struggled financially to fund the campaign; expenses were only paid in exceptional circumstances. This meant committee members were not only freely giving their time, but also their money. We had no income stream except the membership fees and any donations members felt able to give. As the campaign progressed, sales were undertaken but the days of having the permanent sales outlets were just a distant dream.
I am deliberately not going to mention any committee members by name, simply because they all gave so much that it would read like a roll of honour if I mentioned them all.
I have already mentioned communication, and communication with our members was extremely important; this was done providing a newsletter printed on A4 sheets. This was to change to A5 format with newsletter 20 and that is the format which has been continually developed and evolved into the quality magazine you are reading today. In the early days, newsletter distribution was painfully slow, hand addressed envelopes and stamps to stick on them all. A far cry from today's slick operation. Communication was necessary to raise the profile of our campaign and contacts were established with the press, local radio stations and regional TV. Local MPs provided support and relevant Councillors at all levels were contacted. The Press and local radio were always keen for a story and they provided excellent opportunities to put our case, quite often Regional newspapers would run a story that would be picked up by the national press and "open all hours" is a borrowed phrase that could well have been applied to the Friends in those days. Did you know our official name at that time was the Friends of the Settle Carlisle Line Association; later we were to drop the "Association".
Since this snapshot is only covering the formative years, I would like to record a few people and organisations outside the Friends that helped us to achieve our goal.
To launch a major campaign as a pressure group, we clearly were not geared up to such a challenge, and looked to seek advice and help wherever we could. We discovered that, in the '70s, a line from Oxford to Worcester had been proposed for closure and a group had been formed to fight that proposal. The group was known as the Cotswold Line Promotion Group and they managed to save the line - albeit with a reduction from double to single track. They were contacted and a meeting took place in Keighley with their Chairman and Secretary. This was the beginning of a helpful working relationship between the two groups which was to endure even after our line was saved from closure. They sent members to speak at the Transport Users Consultative Committee (TUCC) hearings, and it was at their suggestion that we adopted the A5 magazine format.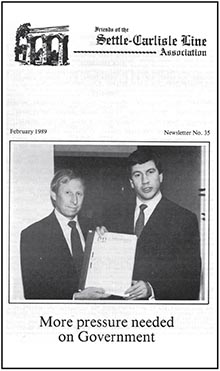 Another organisation that helped us play a major role was the Settle Carlisle Joint Action Committee; the NW groups of Transport 2000 and the Railway Development Society spearheaded this group. They recognised that the Friends could become a force but, with no experience of operating as a pressure group, clearly needed some direction. These were the three main constituent members and this group provided access to the rail unions and politicians and helped to raise the profile of the campaign.
Pete Shaw's cover photo on the February 1989 issue of the FoSCLA newsletter [see right: click on the thumbnail to see a larger version] shows Brian Sutcliffe in 1988 presenting the then Transport Minister, Michael Portillo M.P., with FoSCLA's financial analysis of the line.
The final campaigning group to emerge was The Business Liaison Group, representing local business along the line; they mounted a vigorous campaign that helped achieve the ministerial decision in 1989. More support was to come from the Councils affected by the closure proposal, these were led by the redoubtable Councillor Bill Cameron of Cumbria CC, a determined, down-to-earth man who marshalled his forces to great effect. We played our part and attended the Joint Council meetings, Councillor Cameron became a great ally and the part played by the Councils under his Chairmanship should not be underestimated.
Now BR played their card by appointing a manager to oversee the closure. I don't know if this was a Wild Card or a Joker, because the manager they appointed was a man with a track record based on marketing. This was Ron Cotton, a maverick manager who was nearing the end of his career. At this time there were only 2 trains each way over the line, no more than 5 coaches and loco hauled, but within a short period of time Ron Cotton's marketing skills had increased the train frequency to three each way, with up to ten coaches. On summer Saturdays it was not unusual to have a relief morning train from Leeds. This impacted on the Friends who by now were travelling on the trains collecting pro forma objections for the TUCC closure hearings from a captive audience. We also did local leaflet distributions for each new offer which Ron Cotton generated. At this time some members of the committee did not trust Ron Cotton, this sometimes left me in a minority on the Committee, but I believed you could not look a gift horse in the mouth, fortunately time was to confirm my belief.
In 1986, using a little known piece of legislation called the Speller Amendment, Ron Cotton, with financial help from the local authorities, re-introduced a local service stopping at eight of the previously closed stations. The financial help provided rudimentary lighting that was to endure into the 90's. Was this really the work of a man committed to closure?
However, after 16 years of closure most of the stations were in a sorry state, and this gave the Friends an opportunity to make them more user friendly. This led to the formation of a station adoption scheme that would continue into the '90s. Basically members adopted a station and were allowed to carry out improvements within a restrictive brief. BR awarded annual prizes, in the form of rail tickets, for the station judged to be the most improved.
However, before a ministerial decision could be made we had the TUCC hearings to attend and present our evidence, assisted by some of our MP vice-presidents. The NW and Yorkshire Area committees carried out the hearings. The Chairman of the Yorkshire Area was the late James Towler, a man whose outspoken comments were always good for publicity but gained little favour from his political masters. For the NW, Olive Clarke was the Chair and she was regarded with some trepidation as someone who would not give a fair and impartial hearing to the evidence presented. Events were to prove us wrong: Olive Clarke conducted impartial and professional hearings while James Towler could be seen to favour the objectors.
The Hearings completed, it was to take a further two years of our roller coaster ride before we had the decision we had all worked so hard to achieve. By this time Ron Cotton had retired and James Towler was not given the opportunity for another term in office, clearly his style did not impress the politicians.
With the '80s drawing to a close and a sense of elation following the historic decision, the Friends could look back with some pride to realise how such a disorganised group of amateurs had matured into such a professional and respected campaigning organisation.
We were now left to look forward to the '90s and the transition from Pressure to User Group. At that time most of us believed we would see a resurgence of passenger traffic with through trains to Scotland, and freight playing little or no part in the development of the line. What was to happen was rather different!