Introduction
All FoSCL guided walks and tours are free of charge (excluding travel costs) and there is no need to book in advance.
For the current programme of walks and tours, see the Guided Walks page.
A pdf-format version of the current leaflet can be downloaded via the attachment link near the bottom of this page.
Please note that on days when engineering work or industrial action causes alterations to the published timetable planned walks / tours are likley to be cancelled.  Please check details of individual walks for up to date information.
Some walks / tours involve the use of an additional bus and / or train service. In these cases normal fares and concessions will apply, although subsidies are gradually being withdrawn from many bus services.
FoSCL supports the 564A service from Dent Station to Dent and Sedbergh, for timetable details see http://westerndalesbus.co.uk/
Grades of Walks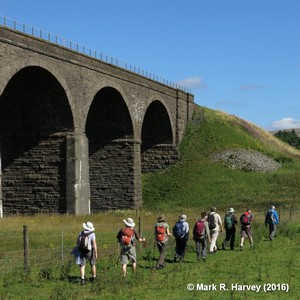 For a full list of the walk grades with definitions, see the box located to the right (or below on small-screen devices). Please note that these grades are for guidance only and participants should be aware of their own capabilities. If you are unsure, ask the leader at the start of the walk. If you have not walked previously or for several years please start with easier, shorter walks and build-up to longer, more strenuous walks.
Walk Themes
FULL DAY walks are for experienced walkers and may be strenuous. They will have a 30 minute lunch break and two shorter refreshment breaks.
EXPLORER walks are generally shorter walks and may have a later start or earlier finish time but will have a 30 minute lunch break and at least one shorter refreshment break.
RAILWAY themed walks have a specific railway feature to explore.
WONDER & WANDER walks are generally shorter walks with an extra feature to explore like the Salmon Leaping at Stainforth Force.
Travel information
All the walks begin and end at one of the stations along the line.  Walks are organised to connect with the following trains according to the direction of travel.  Please check the current timetable to see what time the relevant train arrives at the start station.  This is the time the walk will start.  You do not have to travel by train.  Just be at the station to meet the train.  Details of the connecting trains are available online from National Rail Enquiries via http://www.nationalrail.co.uk/ or www.settle-carlisle.com.
Some walks use additional bus journeys.  Normal fares and concessions apply on these journeys.
FoSCL supports the 564A service from Dent Station to Dent and Sedbergh, for timetable details see http://westerndalesbus.co.uk/
Most walks are timed to use the 0919 train from Leeds to Carlisle (0859 on Sundays). However, some walks use the earlier (0748 from Leeds) or later (1049 from Leeds) trains or trains from Leeds - Lancaster (Bentham Line). PLEASE CHECK TRAIN TIMES CAREFULLY
Return trains are shown for GUIDANCE only - these may be varied on the day by the Walk Leaders due to prevailing or forecast weather conditions or the pace of the group.  You are strongly advised NOT to purchase Advance Tickets for specific timed trains.  Changes or cancellations to these walks will be notified on the FoSCL website www.foscl.org.uk. Walks may be cancelled due to train disruptions or adverse weather conditions and if a walk is cancelled or amended the website will provide full details. Leaders will NOT go to the start of cancelled walks.
There are no walks specifically from Carlisle - Leeds trains due to a lack of volunteer leaders in the Carlisle area. However, some walks are accessible by train from Carlisle with a short wait for the train from Leeds and details of these will be posted on the website. We regret that if the train from Carlisle is delayed the walk will start upon the arrival of the train from Leeds.  All train times correct at time of printing.
Please check current timetable for alterations.
Train Tips
Save 1/3rd on all your trips on the Leeds - Settle Carlisle and Leeds - Lancaster - Morecambe lines with a Dales Railcard AND get some great winter offers.  The DalesRailcard is available to all residents along the line and ALL FoSCL Members irrespective of where you live. See www.foscl.org.uk for full details.
If your walk is between stations it is normally cheaper to buy a return to the FURTHEST station. Off peak Day Returns are valid at all times on Saturdays and Sundays and after 0930 on weekdays. Remember that break of journey is allowed so you can stop off on the way back for a drink or meal or catch an earlier morning train and have breakfast en route. Settle and Skipton have several eateries and there are pubs within 5 minutes walk of Ribblehead and Horton stations.
If you are travelling from further afield than Leeds please check to see if "split-ticketing " is cheaper than the through fare but remember that the trains that you use MUST stop at the station where you split the tickets.
Engineering work
Engineering work sometimes cause disruption and alterations to the published timetable (usually Sundays).  On days when such work is taking place any planned walks are likely to be cancelled.  Please check the details of individual walks for up to date information.
General information
Walking in the Dales can involve crossing rough terrain with steep slopes and in inclement weather. All participants on these guided walks are asked to be aware of this and accept the following conditions:
NO DOGS except Registered Assistance Dogs.
Young people under 18 and vulnerable adults must be accompanied at all times by a responsible adult/carer.
Walkers safety is their own responsibility.
No liability or claim can be accepted by the Friends of the Settle Carlisle Line or its Officers, or Committee Members or Walk Leaders; The Settle-Carlisle Railway Development Company or the Leeds - Lancaster - Morecambe Community Rail Partnership for any loss, damage, accident or personal injury however caused on these walks.
Participants are NOT covered by any of the above bodies for Personal Injury or Accident whilst on these walks.
Walk leaders will be entitled to refuse participation on a walk if the leader judges that the person concerned is not fit or adequately clothed or equipped, or on health grounds, for the walk and prevailing conditions.
Walk leaders reserve the right to vary or cancel the walk without notice if weather conditions or train operations so dictate. Wherever possible an update will be placed on the FoSCL website which participants should check before they commence their journey.
The Walk Leaders decision shall be final.
Please bring adequate food and drink; waterproofs and spare dry warm clothing; walking boots or strong shoes for shorter summer walks.
Walkers are requested to remain with the party and to accept the pace set by the Leader which will take into account the distance, terrain, weather and time available.
Return times are given in good faith but cannot be guaranteed.
Most walks are offered on a "turn up and go" basis.  The walk will not commence until the train from Leeds has arrived. For walks requiring booking (usually because use will be made of a minibus), bookings should normally be made by 1900 hours the previous day.
Obtaining further information
For further information or enquiries about the guided walks please use the Contact Form.
Useful phone numbers
National rail enquiries (local call rate)
08457 48 49 50
Northern Rail Customer relations
0845 00 00 125