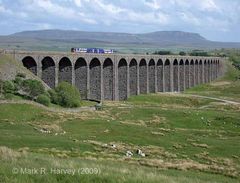 For those able to walk a mile or two over rough ground, the "Ribblehead Heritage Tours" organised and run by Friends of the Settle-Carlisle Line volunteers are a great way to learn about:
The history of the famous Ribblehead Viaduct (pictured, right or above) with its magnificent 24 arches supporting the track bed more than one hundred feet above Batty Moss. ('Moss' is an Old English word meaning bog - i.e. waterlogged ground).
 
The people who constructed the line and the techniques that they used to do so. Find out how the navvies lived in this wild and remote location. How they built the cuttings, embankments, bridges (a viaduct is just a long bridge), tunnels, stations, etc. - all with little more to assist them than wheelbarrows, pick-axes, shovels, muscle power and, where necessary, dynamite. (The Tour Guides have a few stories to tell about the use - and misuse of the latter: for example, what happens when you try to dry wet dynamite beside an open fire? . . . !!!)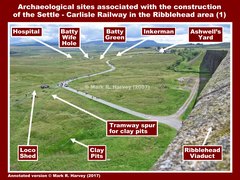 The tours also visit some of the archaeological sites in the area, including the evocatively named shanty towns of Inkerman, Batty Green, Sebastopol and Belgravia; the isolation hospital, narrow-gauge tramway and maintenance shed for the narrow-gauge steam locomotives; plus the clay-pits, brickworks and stone sorting area. The photograph to the left (or above on small screens) shows the heart of the area covered by these tours. For more information about this fascinating archaeological site, see Ribblehead Railway Construction Camp.
For many participants on these tours, the close-up and distant views of the viaduct from the adjacent common land are the highlight of the tour, but please note that it is NOT possible to walk along the top of the viaduct as it carries an operational railway. You can, of course, cross it by train. To find-out how, see: