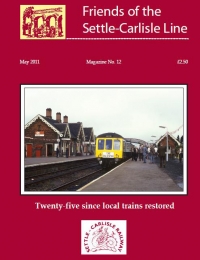 May 2011
Cover photo: The inaugral southbound service 14 July 1986 which called at all 8 reopend stations arrives at Appleby.
Photo. Pete Shaw
(Note: this cover is not the same as the printed magazine issue).
This issue welcomes Richard Morris as the new FoSCL Chairman.  Also reported are the 25th anniversary celebrations of the re-opening of 8 stations which had been closed in 1970.
 The full magazine is normally available for download when the following one comes out.  As a member of FoSCL you receive the printed version four times a year.